Da qualche tempo PubbliMais è partner di RUOTE LEGGENDARIE, un team composto da un gruppo di appassionati e possessori di auto storiche con lo scopo di diffondere la storia dell' automobile e tutta la cultura che gira intorno a questo meraviglioso mondo. Il team di Ruote Leggendarie, che è presente in internet con il portale ruoteleggendarie.com e con l'account Instagram, è composto dal fondatore Dennis Lipparini, i co-fondatori Giorgio Zacchi e Hiromi Furukawa e altri professionisti della fotografia, del giornalismo e della grafica. 
Qui sotto sono riportati i link del sito web e dell'account di Istagram, in particolare vi invitiamo a visitare l'elegante portale per scoprire quanta incredibile passione e cura è stata messa in ogni particole del sito. Il sito web è tradotto in 3 lingue (italiano, inglese, giapponese) e offre indicazioni sui migliori specialisti sulla piazza in fatto di meccanica, restauri, carrozzeria, ma anche il calendario degli eventi con protagoniste le auto storiche, auto in vendita, articoli, servizi, club, viaggi, il tutto sempre accompagnato da foto di grandissima qualità. Un grande punto di incontro per tutti gli appassionati!
Qui sotto invece la pagina a noi dedicata corredata da magnifiche immagini. Ringraziamo gli amici di Ruote Leggendarie con i quali ci adopereremo ricordare e celebrare il mondo delle auto storiche sempre con grande attenzione alla veridicità e alla attendibilità di tutte le notizie e le informazioni che verranno diffuse. Solo così si potrà rendere un vero omaggio alle case costruttrici, ai geniali ingegneri, ai bravi meccanici e a tutti coloro che hanno contribuito a fare della Storia dell' Auto una LEGGENDA.
(PubbliMais su ruoteleggendarie.com, cliccare sull' immagine per accedere direttamente alla pagina)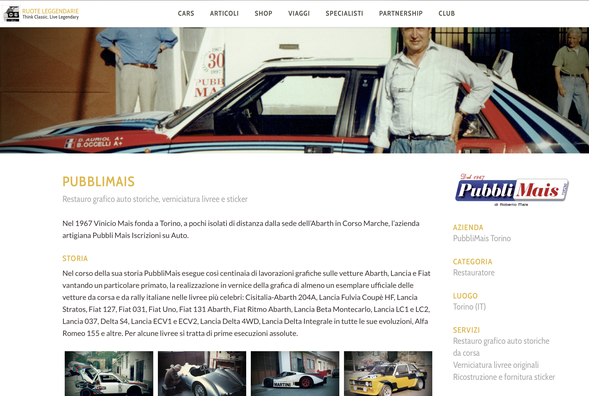 The blog articles are available only in the original language, Italian. Use Google's translation tool to automatically translate to your preferred language.