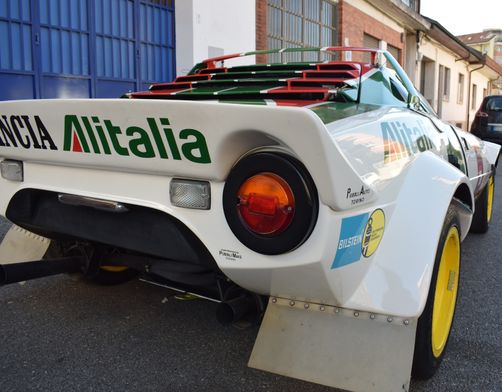 Pubbli Auto, founded in 1958, was a well-known historic Italian company that, starting from the early 1970s, created the official paint liveries for the Fiat group of many rally cars that have become legend: Lancia Fulvia, Lancia Stratos, Fiat 131 to quote the most famous.
In 1985 Pubbli Auto suddenly closed its doors (see note below), leaving the Abarth top management in dismay, who had to quickly transfer the ongoing orders (including the development of the new liveries for Delta S4 and Lancia LC2) to Pubbli Mais, which had already been working in parallel for years for Fiat, Abarth and Lancia.
It can be said that Pubbli Mais took up the position left vacant by Pubbli Auto and began a close and constant collaboration with Abarth which coincided with an equally important and epic period, that of the Martini graphics for the multiple world champion Lancia Delta Integrale.
The historical continuity of Pubbli Auto - Pubbli Mais was guaranteed by the identical artisanal methods and by the passage of Michele Mininni - a leading collaborator of Pubbli Auto - to Pubbli Mais exactly in the year 1985, that is with the closure of the company for which he worked. Mininni formed with Vinicio Mais - owner of Pubbli Mais - a very strong couple who had already worked together, albeit at a young age, at the time of the company from which everything was born, the IPAI (Registration Auto Advertising Turin), in which he worked initially also the owner of Pubbli Auto, and these are the wonderful intertwining of History ....
If you want to know more about origins of IPAI, Pubbli Auto and Pubbli Mais you can click on this LINK.
NOTE.
It should be noted that Pubbli Auto never left heirs and no one continued its business after the closure, for these reasons those who now follow their name and surname with a comma and the name Pubbli Auto or who in modern times proposes himself in the world of work by associating his productions with this name are arbitrarily assigning themselves the role of representative and heir of this historic company. This type of misleading information assumes a certain relevance when it is used to have advantages in the workplace, avoiding competition from other companies and historical activities that still exist.
If there is anyone who claims to have led and still continue the activity of Pubbli Auto in all these years, they can refute us by providing photographic documentation of the works made from 1985 to 2021. We are here. We also invite all enthusiasts and those who value us to tell us on which occasions a company or a professional in the historical graphics sector presented themselves as heirs or continuators of Pubbli Auto's business in proposing their application for a job. Write to our email pubblimais@gmail.com