A car that is making a lot of noise, it is the Ferrari 308 Group 4 in Olio Fiat livery.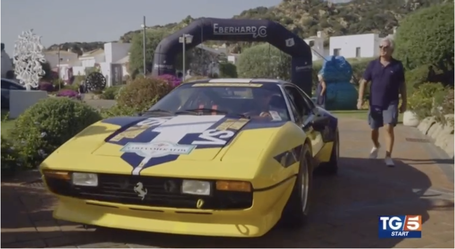 The car was born in the Officine Michelotto in Padua and was completely decorated by us in Olio Fiat livery to participate in the Poltu Quatu Classic event, one of the most renowned Concours of Elegance for vintage cars which takes place annually in Sardinia and is organized by Simone Bertolero. The mass media covered the event, including the Italian television channel CANALE 5. Surely a beautiful and well-deserved publicity for the whole event.
Even Davide Cironi, one of the greatest popularizers in the sports car sector, could not resist its charm and drove it through the extraordinary landscapes of Sardinia leading the way for the other competing cars. His YouTube video has already garnered tons of views.


As far as we are concerned, we are pleased to show you the photos of the car that we took at our premises in Turin.
Processing with the car wrapping method to create the Olio Fiat adhesive livery.
As always, if you want to see more pics of this wonderful car and our work, please follow us on our social networks!